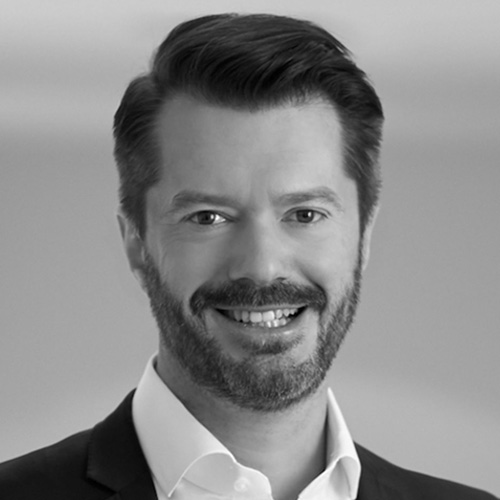 Ralf Philipp Hofmann
Managing Partner, Member of the Executive Committee
Software/SaaS
Digital Services
"Do it with passion, or not at all"
Ralf is an award-winning investment banker who has been active as an entrepreneur and technology investment banker promoting digital transformation for 25 years. Ralf supports great technology entrepreneurs in defining their growth strategy and structuring and executing value-creative M&A and fundraising transactions. As a Co-Founder and Board Member of Drake Star Partners, a global investment banking firm serving technology companies worldwide, it is his aspiration to connect Drake Star's clients with the firm's global network of entrepreneurs, high-growth technology companies, large international corporations, and leading investors.
Ralf has extensive experience in cross-border M&A, private equity transactions, growth equity, and debt transactions, IPOs, public secondary and PIPE transactions across Europe, the US, and Asia. Ralf is also one of the Co-Founders of LD&A Jupiter (one of Drake Star's predecessors) and has led over 100 transactions during his career, some of his most notable transactions include the recapitalizations of ]init[ AG für digitale Kommunikation, the sale of Snapview to BSI, the recapitalization of Ingentis, the series of transactions for Avira, including the sale to InvestCorp and the acquisition of BullGuard, the sale of ProLeiT to Schneider Electric, the recapitalization of HYPE Innovation, the sale of Elgato Gaming to Corsair, the recapitalization of Cellular, the recapitalization of Acrolinx, the Unu fundraising led by ponooc, the Campanda fundraising led by Michelin, the sale of Smart Adserver for Axel Springer and aufeminin, the sale of Arcplan to Marlin Equity, the sale of NewMoove to Fitness First, the sale of finanzen.net management shares to Axel Springer, the sale of Big Social Media to USU Software, the capital increase of Intershop and sale of shares to GSI Commerce, the sale of billiger.de for ProSieben.Sat1 to a consortium led by Müller Medien, the sale of dooyoo to LeGuide.com, the sale of ImmobilienScout24 to Deutsche Telekom, the IPO of P&I Personal & Informatik AG, the IPO of Evotec SE, and the sale of YMOS to Magna.
Prior to the formation of Drake Star Partners and LD&A Jupiter, Ralf was Managing Director and Head of Technology Investment Banking at the successor of SG Cowen Germany and Co-Founder and CFO of a B2B marketplace.
Ralf began his career in Global Investment Banking at Morgan Grenfell, Merrill Lynch, and Deutsche Bank in London and Frankfurt, focusing on cross-border M&A and Equity Capital Markets transactions.
Ralf holds a Diplom-Kaufmann from Eberhard-Karls-Universität Tübingen where he focused on capital markets theory and studied business & international accounting at Gothenburg University, School of Business, Economics and Law (ERASMUS scholarship) and stochastics at Stony Brook University, New York.
Get In Touch
Please search by region and sector so we can point you to the right member of our team.