MUNICH | October 17, 2023 – Persis GmbH ("Persis"), a leading provider of innovative HR software solutions, today announced its strategic sale to proALPHA Group, one of the leading providers of ERP+ software solutions for mid-market manufacturing companies. With the acquisition, proALPHA expands its portfolio in HR management and substantiates the proALPHA Group's development of a joint, group-wide strategy around HR processes. Drake Star acted as the exclusive financial advisor to Persis and its shareholders on this transaction.

Persis, headquartered in Heidenheim with offices in Düsseldorf, Leipzig, Stuttgart, Berlin and Münster, has a 35-year history of driving innovation in HR Tech and is one of the leading providers of holistic people management software in the DACH region. The company's modular platform addresses key industry needs and empowers its customers to digitalize their entire HR function.

Persis' renowned customer base includes Helvetia, Dachser, Currenta, Lufthansa AirPlus Servicekarten, Connex, Deutsche Apotheker- und Ärztebank and Fairtrade Deutschland among others. Currently, more than 1.2 million employees are managed with Persis' solution.

"Our team has successfully built one of the leading HR management platforms in the DACH market, addressing key industry needs. As the organization continues to grow, we decided to partner with one of the leading German ERP software providers to leverage strategic synergies. We are convinced that with proALPHA we have found the perfect partner to successfully shape the future of Persis," comment Katja Kolb, Chief Executive Officer of Persis GmbH, and Rainer Kolb, Founder of Persis GmbH.

"Persis has achieved a strong market position as one of the market leaders in the segment of holistic providers for HR solutions, both in the midmarket and with enterprise customers," comments Eric Verniaut, CEO proALPHA Group."Persis' expertise and solution portfolio perfectly complement the offering of our group company tisoware and thus also strengthen proALPHA's ERP+ offering with cutting-edge solutions in the areas of applicant management, talent management and human resources. Persis is a great addition to our ERP+ innovation platform and will help to further strengthen proALPHA's leading market position."

Persis' extensive product portfolio and know-how in the areas of talent and people management, combined with tisoware's leading solutions for time management and access & building security, create a holistic HR management portfolio including seamless integration with proALPHA's ERP system.

"Ralf Philipp Hofmann and the Drake Star team have done an exceptional job in guiding us through the entire process. Their profound HR Tech knowledge as well as their outstanding execution skills have been vital to the success of this transaction," adds Rainer Kolb, Founder of Persis GmbH.

Ralf Philipp Hofmann, Managing Partner and Co-Founder of Drake Star says: "We are delighted that we supported Persis and the Kolb family in executing a highly effective process resulting in a very successful outcome. With proALPHA, Persis has found the perfect strategic partner to support its future growth by creating a unique and fully comprehensive HR management platform within the proALPHA product portfolio."


Drake Star Team: Ralf Philipp Hofmann, Pablo Lundershausen, Anton Donauer, Jan Sergio Ceko

For further inquiries, please contact:

Ralf Philipp Hofmann
ralf.hofmann@drakestar.com, +49 173 393 0070

About Persis GmbH

Since its foundation in 1987, Persis GmbH has focused on software development in the HR sector. Persis' mission is to create strategically oriented, efficient structures in Human Resource Management. Persis is headquartered in Heidenheim and has offices in Düsseldorf, Leipzig, Stuttgart, Berlin and Münster. Thanks to its modular structure, Persis HR software is a powerful and flexible solution that can be integrated into existing system landscapes.
For more information, visit: www.persis.de.

About proALPHA Group

For around three decades, proALPHA has been the digital sparring partner for small and medium-sized businesses at 56 locations around the globe. The powerful ERP core and add-on solutions from proALPHA and its partners form the digital backbone of the entire value chain of more than 8,200 customers from the manufacturing industry, wholesale and other sectors. proALPHA ensures intelligent interconnection and efficient control of all business-critical systems and core processes. To gain an edge over competition, companies must perfectly integrate upstream and downstream processes. Therefore, the various software solutions offered by the proALPHA Group and its 262 partners support every customer in the areas crucial to their business. Whether data analysis, artificial intelligence, procurement, financial performance management, security, quality, energy, production or time management, the more than 2,000 people who work for proALPHA have a very clear mission and purpose: to develop a digital solution platform that gives SMBs the competitive edge they need to master the constant process of transformation and change.

For more information, visit: www.proalpha.com/en/.
About Drake Star

Drake Star is an award-winning global tech investment bank that has completed over 450 transactions since 2003. Drake Star team of 100 senior professionals across offices in New York, London, Paris, Munich, San Francisco, Los Angeles, Berlin, and Dubai* focuses on mergers & acquisitions and corporate finance services worldwide in Software/SaaS, Consumer & Retail Technology, Digital Media, FinTech, Mobility & Sustainability, Digital Services, and Industrial Tech sectors.
Drake Star is the marketing name for the global investment bank Drake Star Partners Limited and its subsidiaries and affiliates. In the USA, all securities are transacted through Drake Star Securities LLC. In the USA, Drake Star Securities LLC is regulated by FINRA and is a member of SIPC. Drake Star UK Limited (FRN 942020) is an appointed representative of Kession Capital Ltd (FRN582160) which is authorized and regulated by the Financial Conduct Authority. © 2023 Drake Star Partners Limited.
*Partner Office
Inquiries
For further inquiries, please contact: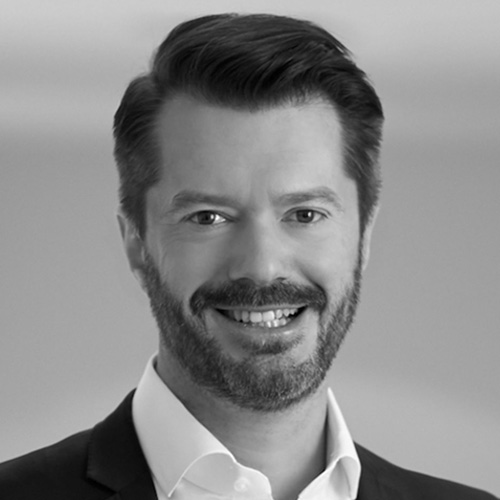 Full
Biography
Ralf Philipp Hofmann
Managing Partner, Member of the Executive Committee
Software/SaaS
Digital Services
Munich