MUNICH | September 27, 2023 - aconso AG ("aconso"), the global technology leader in HR Document Management and inventor of the Digital Personnel File today announced the majority recapitalization with leading European technology growth investor Keensight Capital. Drake Star acted as the exclusive financial advisor to aconso and its shareholders on this transaction.
aconso, founded in 2001 by Ulrich Jänicke, Dr. Martin Grentzer, Olaf Harms and Thomas Schäfer, offers best-in-class cloud-based HR DMS software, enabling end-to-end automation of document storage, creation, and processing. aconso is positioned at the intersection of two fast growing markets, HR Tech and DMS. The company's highly scalable solution addresses key customer pain points by digitalizing their HR function, resulting in significant efficiency gains. aconso's Gartner-recognized solution is industry-agnostic and serves enterprise clients around the globe, including Lufthansa, BioNTech, Deutsche Bahn, Allianz, Siemens, dm and Starbucks.
Ulrich Jänicke, Co-Founder and CEO of aconso, stated: "We are delighted to be partnering with Keensight as aconso continues to expand internationally. The Keensight team has extensive knowledge and strong experience in the enterprise SaaS market coupled with a very impressive B2B portfolio. We are at an exciting stage of our company development, where Keensight's expertise will help us to reach our objective of establishing aconso as the global leader in HR DMS."
Dr. Martin Grentzer, Co-Founder and CFO of aconso, added: "Ralf Hofmann and the entire Drake Star team have done a fantastic job in supporting us to get an investor onboard that is ideally suited to support us on our international expansion journey. Ralf and Drake Star's HR Tech teams' professionalism, enterprise software expertise and global industry network have been vital to the success of this transaction."
Keensight Capital agreed to acquire a majority stake in aconso from its founders, who will remain in their management positions and drive the international growth strategy throughout the next phase of the company's development. The founders will retain a significant shareholding, underlining their commitment for continued support of aconso's growth and vision over the next years. Keensight was selected in a highly competitive process as the ideal partner to support aconso's future international growth.
Yuri Mikhalev, Partner at Keensight Capital, added: "We have been very impressed with aconso's growth journey to date, going from strength to strength, and we look forward to exploring new growth strategies especially in Europe and in the US."
Ralf Philipp Hofmann, Managing Partner and Co-Founder of Drake Star commented: "aconso is the innovation and technology leader in the HR DMS space providing mission critical and highly scalable solutions to a blue-chip customer base. We are excited that we could support aconso's visionary, entrepreneurial leadership team in executing a highly successful process, creating a real win-win situation as well as finding the perfect partner for aconso's next growth phase."
Drake Star Team: Ralf Philipp Hofmann, Sebastian Kimmerl, Maximilian von Bodman, Pablo Lundershausen, Maximilian Hönig, Jan Sergio Ceko
Inquiries
For further inquiries, please contact:
Ralf Philipp Hofmann
ralf.hofmann@drakestar.com, +49 173 393 0070
About aconso
aconso is the inventor of the Digital Personnel File and market and innovation leader for cloud software in HR document management. Already since 2001, the aconso corporate group has been setting new standards for a digital HR department with its vision of fully automating HR processes. At the same time, it creates more time for what matters most in the company – the employees!
With its People-Based HR approach, aconso promises its customers to focus on their needs and those of their employees. In this way, aconso creates active collaboration between HR, employees and managers, thus relieving the HR department.
For more information: www.aconso.com
About Keensight Capital
Keensight Capital ("Keensight"), one of the leading European Growth Buyout firms, is committed to supporting entrepreneurs as they implement their growth strategies. For over 20 years, Keensight Capital's team of seasoned professionals has leveraged their knowledge of investment and growth industries to invest for the long term in profitable companies with high growth potential and revenues in the range of €10 million to €400 million. Drawing on its expertise in the Technology and Healthcare sectors, Keensight identifies the best investment opportunities in Europe and works closely with management teams to develop and achieve their strategic vision. Keensight Capital's success has also earned it a Gold Award from the Private Equity Exchange & Awards each year for the last six consecutive years, and in particular, the Best European Growth Private Equity Fund.
For more information: www.keensightcapital.com
About Drake Star
Drake Star is an award-winning global tech investment bank that has completed over 500 transactions since 2003. Drake Star team of 100 senior professionals across offices in New York, London, Paris, Munich, San Francisco, Los Angeles, Berlin, and Dubai* focuses on mergers & acquisitions and corporate finance services worldwide in Software/SaaS, Consumer & Retail Technology, Digital Media, FinTech, Mobility & Sustainability, Digital Services, and Industrial Tech sectors.
Drake Star is the marketing name for the global investment bank Drake Star Partners Limited and its subsidiaries and affiliates. In the USA, all securities are transacted through Drake Star Securities LLC. In the USA, Drake Star Securities LLC is regulated by FINRA and is a member of SIPC. Drake Star UK Limited (FRN 942020) is an appointed representative of Kession Capital Ltd (FRN582160) which is authorized and regulated by the Financial Conduct Authority. © 2023 Drake Star Partners Limited.
*Partner Office
Inquiries
For further inquiries, please contact: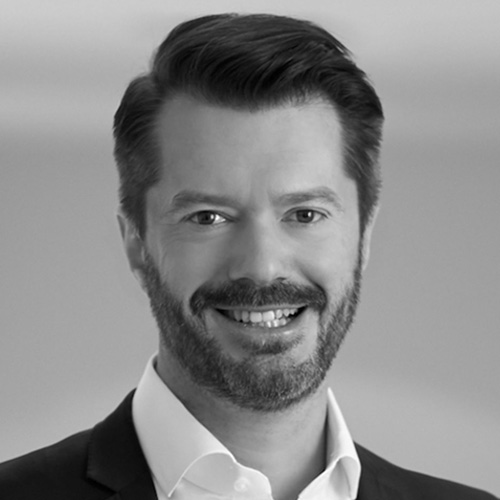 Full
Biography
Ralf Philipp Hofmann
Managing Partner, Member of the Executive Committee
Software/SaaS
Digital Services
Munich