Online Fitness & Healthy Living
MUNICH | VIENNA | FRANKFURT AM MAIN | October 23rd, 2014. Fitness First Germany GmbH, one of the leading fitness and health services providers in Germany, acquires NewMoove, the leading online fitness & healthy living portal. With over 100,000 registered members, the online fitness company is one of the largest portals in the German-speaking region which also became the #1 online fitness studio in the latest "Fit for Fun" ranking. NewMoove is pre-installed on all major Smart TVs and one of the most downloaded Smart TV sports apps in Germany, Austria and Switzerland.
With this acquisition, Fitness First strengthens its position as a trendsetter in the German fitness market and caters to the increasing demand for offerings that enable flexible training and support healthy living.
"As an industry trendsetter, we continuously seek to spearhead new developments in our market segment and design the best available offering for our members", says Stefan Tilk, CEO of Fitness First Germany GmbH. "The acquisition of NewMoove underlines this strategy. We now enter into the fastest growing segment in the fitness market and offer our customers a real added value: Our members will have the opportunity to continue their training experience with a professional guidance in their private environment. We look forward to benefitting from the online expertise of NewMoove."
The transaction creates new growth opportunities for the two companies."Fitness First is a strong and extremely well-positioned premium brand in Germany. We will benefit from this position and gain further momentum for our online business", explains Christoph Hölzlwimmer, Managing Director of NewMoove.
Dr. Christian Fischer, Founder of NewMoove, adds: "We are very convinced that we have found the perfect partner with Fitness First with whom we can pursue many joint strategic initiatives. Together with Fitness First, we can offer our members a real "Fitness 4 anybody, anytime, anywhere" solution."
Supported by the very strong annual growth rates of online paid content for TV and video, the German online fitness market has already reached a remarkable size and is growing much stronger than the one for traditional fitness services.
"With the acquisition of NewMoove, Fitness First will be the first fitness service provider in Germany that can offer its members a unique combination of offline and online training and healthy living solutions", states Ralf Philipp Hofmann, Managing Partner of LD&A Jupiter, the financial advisor of NewMoove on this transaction.
About Fitness First
Fitness First is one of the world's leading health and fitness company with approx. 380 Fitness First Clubs in 16 countries. In Germany, Fitness First operates more than 80 studios with over 270,000 members. Members have access to numerous strength, endurance and small fitness equipment as well as up to 40 fitness group classes. Spacious spas, pools, child care and other services are also available for Fitness First Germany members.
About NewMoove
www.newmoove.com is the leading online fitness and healthy living platform with over 400 courses in 12 categories such as Body Shape, Yoga, Pilates or Back-Fit ad and an innovative trendsetter of a new category in the fitness market. NewMoove is available in Germany, Austria and Switzerland via computers, apps on mobile devices and interactive televisions.
About LD&A Jupiter
LD&A Jupiter is a leading international technology corporate finance firm. With offices in London, Munich, Paris, Berlin, New York and Los Angeles, LD&A Jupiter offers international coverage and a unique combination of cross-border capabilities and know-how.
Since 2004, the firm has closed over 100 transactions with leading international companies of which 70% were cross border deals.
About Drake Star Partners
Drake Star Partners is a global investment banking firm serving the technology, media and communications sectors (TMC) with offices in New York, London, Paris, Munich, San Francisco, Los Angeles, Berlin, Geneva, Singapore* and Dubai*. The firm focuses on M&A and corporate finance for its clients worldwide. Drake Star Partners completed over 400 transactions since 2004, 70% of which are cross-border.
Drake Star Partners is the marketing name for the global investment bank Drake Star Partners Limited and its subsidiaries and affiliates. In the USA, all securities are transacted through Drake Star Securities LLC. In the USA, Drake Star Securities LLC is regulated by FINRA and is a member of SIPC. Drake Star UK Limited (FRN 942020) is an appointed representative of Kession Capital Ltd (FRN582160) which is authorised and regulated by the Financial Conduct Authority. © 2016 Drake Star Partners Limited.
Inquiries
For further inquiries, please contact: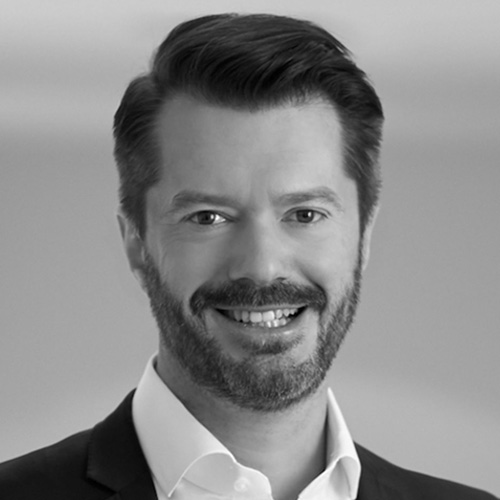 Full
Biography
Ralf Philipp Hofmann
Managing Partner, Member of the Executive Committee
Software/SaaS
Digital Services
Munich