DÜSSELDORF | FRANKFURT | MUNICH | June 12th, 2023 – ONE HIRING Group ("ONE HIRING"), a leading and fast-growing talent acquisition platform, today announced the partnership investment by funds managed by ECM Equity Capital Management GmbH ("ECM"), a leading mid-market private equity firm based in Frankfurt, Germany.
Drake Star acted as the exclusive financial advisor to ONE HIRING and its shareholders on this transaction.
Headquartered in Düsseldorf, Germany, ONE HIRING operates a leading talent acquisition platform offering a digital end-to-end experience for candidates and employers. The company focuses on the permanent placements of talent prevalent throughout the Technology and Finance sectors, with the recent addition of Legal - exhibiting coverage across Germany, UK, and the US. ONE HIRING's self-developed platform facilitates the talent acquisition process with a unique 'hybrid' model synergistically combining technology for automation and efficiency with human touch.
Julian Schubert, CEO and Co-Founder of ONE HIRING, stated: "Drake Star was a true partner from the start, thanks to their deep expertise in the HR Tech sector, profound M&A execution skills, and unwavering commitment to client success. Working with Ralf Hofmann and his team was an absolute pleasure and my co-founder Paul Heslop and myself are extremely happy with the result. They executed a comprehensive process, and with ECM, we have found the perfect partner to continue ONE HIRING's growth journey."
Jointly with a group of key employees, Julian Schubert will re-invest a significant stake and will continue to lead and develop the business alongside the new investor. Together with its new partner, ONE HIRING will continue its successful growth path, enter new verticals, progress its international expansion and strengthen its position in a fragmented market.
Jan-Luca Bell, Investment Director of ECM, stated: "ONE HIRING is a unique platform with an impressive growth profile and an exceptional team. We look forward to partnering with Julian Schubert and the entire ONE HIRING team and to support the company's growth by investing in continued organisational and technological product development. We are very pleased to embark on this new partnership underpinned by strong employee ownership."
Axel Eichmeyer, Managing Partner of ECM, added: "We look forward to supporting ONE HIRING's outstanding management and energetic employees as a trusted partner."
Ralf Philipp Hofmann, Managing Partner & Co-Founder of Drake Star, added: "ONE HIRING has successfully enhanced its business model driven by a tech-enabled approach of connecting talent with employers in the most efficient way. We are excited that we could support Julian and Paul in finding the perfect partner to continue the company's journey of revolutionizing the talent acquisition landscape within the Tech, Finance and Legal verticals, both in Germany and internationally. We have accomplished another HR Tech milestone transaction, illustrating our outstanding expertise and track record in the sector."
Drake Star Team: Ralf Philipp Hofmann, Sebastian Kimmerl, Julian Wolf, Pablo Lundershausen, Maximilian Hönig
Inquiries
For further inquiries, please contact:
Ralf Philipp Hofmann
Managing Partner, Member of the Executive Committee | Drake Star
ralf.hofmann@drakestar.com | + 49 89 1490 265-10
About ONE HIRING Group:
With more than 1,000 successful placements annually and impressive growth rates, ONE HIRING's talent acquisition platform is a leading HR tech company for recruiting tech, finance, and legal experts. From starting over ten years ago as a traditional recruitment firm, ONE HIRING has successfully digitized its business model and now operates an innovative software platform. ONE HIRING offers a unique hybrid solution by using state-of-the-art matching algorithms to match candidates and clients accurately and efficiently, as well as integrating success managers to ensure a personalized consulting process. ONE HIRING employs more than 160 people and operates across Germany, the UK and the USA.

More information: www.onehiring.de
About ECM Equity Capital Management GmbH:
ECM is a trusted growth partner for mid-sized enterprises and entrepreneurs in German-speaking Europe. Since 1995, ECM has raised the private equity funds GEP I-V with aggregate equity commitments of more than €1 billion and currently invests out of its fifth fund GEP V (€325 million). The funds invest primarily in leading mid-market companies with attractive growth potential in the context of ownership successions, partnership transactions, and corporate spin-offs.
More information: www.ecm-pe.de
About Drake Star
Drake Star is an award-winning global tech investment bank that has completed over 450 transactions since 2003. Drake Star team of over 100 senior professionals across offices in New York, London, Paris, Munich, San Francisco, Los Angeles, Berlin, and Dubai* focuses on mergers & acquisitions and corporate finance services worldwide in Consumer & Retail Technology, Digital Media, FinTech, Mobility & Sustainability, Software/SaaS, Digital Services, and Industrial Tech sectors.
The testimonial herein may not be representative of the experience of others nor is it a guarantee of future performance or success. Drake Star Partners is the marketing name for the global investment bank Drake Star Partners Limited and its subsidiaries and affiliates. In the USA, all securities are transacted through Drake Star Securities LLC. In the USA, Drake Star Securities LLC is regulated by FINRA and is a member of SIPC. Drake Star UK Limited (FRN 942020) is an appointed representative of Kession Capital Ltd (FRN582160) which is authorized and regulated by the Financial Conduct Authority. © 2023 Drake Star Partners Limited.
For more information, visit www.drakestar.com.
*Partner Office
Inquiries
For further inquiries, please contact: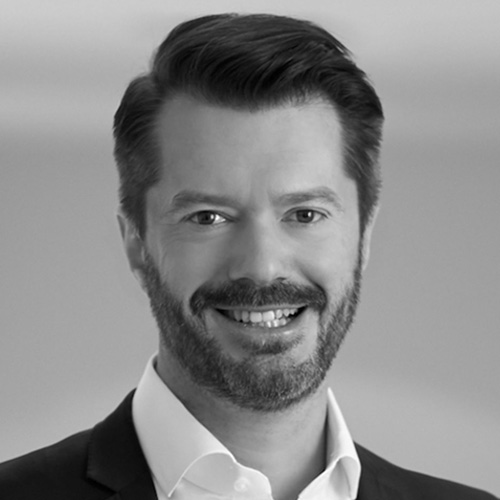 Full
Biography
Ralf Philipp Hofmann
Managing Partner, Member of the Executive Committee
Software/SaaS
Digital Services
Munich