E-Mobility
MUNICH | BERLIN | AMSTERDAM | October 30, 2018 – Leading European e-mobility company unu announced today that it has raised double digit millions in new equity from a consortium of selected investors. The lead investor in this round was Ponooc – a Dutch-based venture capital and growth financing firm investing in sustainable solutions. NRW Bank and Michael Baum, founder of Splunk, were also among the group of investors in this round. This financing round is another milestone in unu's rapid development throughout recent years. Drake Star Partners acted as the exclusive financial advisor to unu in this transaction.
unu, the urban mobility company founded in 2013, has already over 10,000 of its first-generation e-scooters on the road across many cities in Europe. The new capital raised as part of this financing round will be used to continue the company's rapid international growth, as well as for the launch of a new generation of the company's mobility solutions offering. Apart from its leading position in Germany and Austria, unu has already launched operations in France and the Netherlands expecting further growth across many cities in these regions.
In addition to new markets, the company is now launching its second generation, fully connected e-scooter creating a completely new and enhanced urban experience for its customers. For the first time ever, this will provide a product offering that enables mobility services and solutions directly out-of-the-box. Thanks to this financing round, unu has already secured agreements for initial order volumes of over 10,000 second-generation scooters as well as unu's mobility platform solutions to roll out sharing services in cities across the globe.
Pascal Blum, CEO & Co-Founder of unu said: "We are very pleased to welcome Ponooc as the lead investor of this round. The team immediately convinced us with their deep understanding of the changing mobility market. We have made electric mobility accessible to the masses with our first product generation. We are now launching a fully connected second generation, so that our vehicles can be used as part of a Mobility-as-a-Service offering."
Friso Bensdorp, Investment Director at Ponooc added: "We believe e-scooters are an important part of the mobility mix to solve the growing traffic congestion and resulting environmental pollution in urban environments. Ponooc is impressed with the unu team and the accomplishments realized till date and has high expectations of the new connected unu scooter to be launched next year. We look forward to supporting unu in its next growth phase."
Ralf Philipp Hofmann, Managing Partner & Member of the Global Executive Committee at Drake Star Partners continued: "unu's scooters and new mobility solutions are far ahead of its competition and we are excited to support the company on its path of continuous strong growth. Together with the highly-skilled management team, we are confident that unu will successfully expand into new markets internationally and assert its position as a leading mobility solutions provider worldwide."
"It was a pleasure working with Pascal and his team to achieve this successful fundraising. With Ponooc's profound knowledge of the mobility sector and the strategic value they add through Pon Holdings, unu is fully prepared to scale up internationally. Assisting unu on its fundraising is an excellent example of Drake Star's continuous work in the international mobility space.", said Frank Verbeek, Managing Partner, Drake Star Partners.
Pascal Blum, unu's CEO & Co-Founder concluded: "With a great understanding of the global e-mobility market and enormous global reach and network, Drake Star Partners was the perfect partner for us to find strong additional shareholders supporting our international expansion strategy as part of a highly competitive, global process."
Drake Star Partners' team: Ralf Philipp Hofmann, Frank Verbeek, Benedikt Gottwald, Sherief Rahim, Ruben Fuentes, Max Gerke
About unu
Founded in 2013 by Elias Atahi, Pascal Blum and Mathieu Caudal, unu started out as a manufacturer of electric scooters and is now the market leader in German-speaking countries. Today, the young company is working on various solutions for urban mobility. Their TÜV-certified scooter is affordable, drives silently and can be charged thanks to portable batteries at regular power outlets. The idea was born during the founders' studies in Beijing, where limited mobility in a large city was particularly noticeable. The young company has been successfully expanding abroad since 2015 and plans to more than double the number of its electric scooters on the roads.
For more information, please visit www.unumotors.com/en/
About Ponooc
Ponooc is the independent venture capital fund owned by the Pon family. They predominantly focus on investments in early-stage ventures in sustainable energy and mobility. Ponooc has close ties to Pon Holdings B.V. (Pon), Pon is a large diversified conglomerate, also under full ownership and control of the Pon family. The group employs ~14,000 people worldwide and has in excess of EUR 7 billion in turnover. Activities include the distribution of Volkswagen Group cars in the Netherlands, the manufacturing and distribution of bicycle brands such as Gazelle, Kalkhoff, Cervelo, Focus and Santa Cruz and the distribution of Caterpillar products in the Netherlands and Scandinavia.
For more information, please visit www.ponooc.com
Inquiries
For further inquiries, please contact:
Ralf Philipp Hofmann
Managing Partner & Member of the Global Executive Committee | Drake Star Partners
ralf.hofmann@drakestar.com
Frank Verbeek
Managing Partner | Drake Star Partners
frank.verbeek@drakestar.com
About Drake Star Partners
Drake Star Partners is a global investment banking firm serving the technology, media and communications sectors (TMC) with offices in New York, London, Paris, Munich, San Francisco, Los Angeles, Berlin, Geneva, Singapore* and Dubai*. The firm focuses on M&A and corporate finance for its clients worldwide. Drake Star Partners completed over 400 transactions since 2004, 70% of which are cross-border.
Drake Star Partners is the marketing name for the global investment bank Drake Star Partners Limited and its subsidiaries and affiliates. In the USA, all securities are transacted through Drake Star Securities LLC. In the USA, Drake Star Securities LLC is regulated by FINRA and is a member of SIPC. Drake Star UK Limited (FRN 942020) is an appointed representative of Kession Capital Ltd (FRN582160) which is authorised and regulated by the Financial Conduct Authority. © 2016 Drake Star Partners Limited.
Inquiries
For further inquiries, please contact: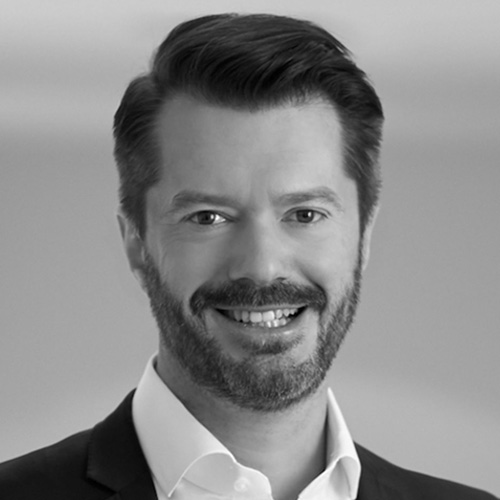 Full
Biography
Ralf Philipp Hofmann
Managing Partner, Member of the Executive Committee
Software/SaaS
Digital Services
Munich