Online Advertising Network
STC Ventures' investment is aimed at funding ikoo's new initiatives and future growth including its video network, performance network, audience data and other expansion plans. ikoo also announced plans to explore new markets and unveil new initiatives soon as part of its regional expansion strategy.
The investment and involvement of STC Ventures, which is managed by Iris Capital, reflects the huge potential offered by digital and video marketing across MENA. The announcement comes close on the heels of ikoo announcing the launch of the region's first and only Arabic Video Network in Beta in late 2012. Digital advertising spend in MENA is growing at a fast pace, a trajectory projected to continue as brands inevitably shift more ad spend online; with digital's share of total ad spend also still extremely modest compared to its share of media consumption and also to rates seen in more developed advertising marketplaces. In addition overall ad spend per capita remains a fraction of spend per head in the US and Europe, which provides strong scope for further overall market growth.
Commenting on the partnership with STC Ventures, Dr. Fahad Bin Mushayt, VP Corporate Strategy at Saudi Telecom, said: "STC, through its STC Ventures fund initiative established in 2012, seeks to invest in and support leading, innovative businesses in the fields of information technology, telecommunications and the broader digital economy, across the MENA region; with the aim of stimulating entrepreneurship, innovation and economic development, creating new job opportunities, growing the infrastructure for a knowledge based economy, and providing access to new technologies and services. From this point of view, Saudi Telecom is extremely proud to support ikoo, a leading player in the high growth digital marketing and advertising sector, serving key publishers and advertisers across the GCC and wider MENA region."
Commenting on the investment, Angus Paterson, Partner of STC Ventures said "ikoo represents a leading platform in the regional online advertising space, with a strong position in core display advertising, providing unique access and support to local publishers, and is also at the forefront of developing new innovative advertising tools in fast growth areas such as performance, video and programmatic advertising. STC Ventures is delighted to announce this substantial investment in ikoo, in partnership with existing investors Jabbar Internet Group and Tiger Global, and together looks forward to providing financial and strategic support to the business in its future development."
Samih Toukan, Chairman of Jabbar Internet Group, said: "Jabbar Internet Group is very excited to welcome STC Ventures as a partner in ikoo. ikoo is a leading digital advertising platform reaching millions of users in the region. It has a wide range of services and digital solutions that helps advertisers reach their targeted audience effectively. The investment by STC Ventures will give ikoo the needed growth capital to solidify its position and conquer new markets."
"ikoo is committed to innovation" added Isam Bayazidi, CEO of ikoo. "This new partnership is expected to go a long way in reinforcing our market leadership across the region and beyond"
"We are delighted that STC Ventures, combining profound technology and digital media expertise with an outstanding network in the MENA region will support the future growth of ikoo, a mindset leader in digital marketing in the region", said Ralf Philipp Hofmann, Managing Partner at LD&A Jupiter who advised ikoo on the transaction. "This investment would not have been possible without LD&A Jupiter's support and management throughout the process. They helped us identify the best candidates for the investment, both on a global and regional scale and negotiated the best terms for the investment. We are delighted with the outcome of the transaction and look forward to developing our business", said Isam Bayazidi.
About ikoo
ikoo is an integrated digital marketing solution provider offering innovative products, professional service, wide reach, and advanced audience targeting across the Middle East and North Africa.
ikoo boasts the largest online Arabic Display Network in MENA with more than 120 websites of leading publishers in the fields of sports, women, news, business, automotive, and more. Additionally, ikoo boats the region?s first and only Affiliation Marketing platform and Arabic Video Network, which sets it apart from the crowd. ikoo's solutions consist of innovative products serving specific campaign objectives that are combined with advanced audience targeting, and are executed on various networks. ikoo?s solutions are formulated to exceed campaign objectives.
For more information, please visit www.ikoo.com
About Jabbar Group
Jabbar is the leading company in the consumer e-commerce sector in the Arab World. Having been established in late 2009, just after the acquisition of Maktoob.com by Yahoo, Jabbar already boasts an impressive portfolio of online brands, all leaders in their respective niches, and all-together generating the largest online consumer e-commerce volumes in the region. Jabbar is currently owned by the same founders of the original Maktoob Group, who after the acquisition, decided to spin-off the brands that were not acquired by Yahoo, namely souq, cashu,ikoo and to form a new group to house these brands, focusing on consumer e-commerce in the region.
For more information, please visit www.jabbar.com
About STC Ventures
STC Ventures is a venture capital fund, independently managed by Iris Capital, whose anchor investor is the Saudi Telecom Company. STC Ventures is focused on equity investments in the information technology, telecommunications, and digital media/entertainment sectors; seeking to support the development of innovative technology companies in Saudi Arabia, the GCC, Levant, North Africa and Turkey, in addition to funding globally minded international companies seeking capital and access to the MENA region. STC Group is the largest telecommunications company in MENA, ranked in the top 20 mobile networks in the world, and serving more than 160 million subscribers across Saudi Arabia and nine external markets, spanning Turkey, Bahrain, Kuwait, Lebanon, Jordan, India, Malaysia, Indonesia, and South Africa.
For more information, please visit www.stcventures.com
About Iris Capital
Iris Capital is a pan-European venture capital fund manager specializing in digital economy. Since its inception in 1986, the Iris Capital team has invested more than 900 million US Dollar in more than 200 companies. Iris Capital targets opportunities in service or technology companies, seeking growth capital in order to realize their strategy. It provides active support to its portfolio companies on the basis of its strong sector specialization and experience, and has offices in Paris, Düsseldorf, San Francisco, Montreal, Riyadh, Dubai, Beijing and Tokyo.
For more information, please visit www.iriscapital.com
About Drake Star Partners
Drake Star Partners is a global investment banking firm serving the technology, media and communications sectors (TMC) with offices in New York, London, Paris, Munich, San Francisco, Los Angeles, Berlin, Geneva, Singapore* and Dubai*. The firm focuses on M&A and corporate finance for its clients worldwide. Drake Star Partners completed over 400 transactions since 2004, 70% of which are cross-border.
Drake Star Partners is the marketing name for the global investment bank Drake Star Partners Limited and its subsidiaries and affiliates. In the USA, all securities are transacted through Drake Star Securities LLC. In the USA, Drake Star Securities LLC is regulated by FINRA and is a member of SIPC. Drake Star UK Limited (FRN 942020) is an appointed representative of Kession Capital Ltd (FRN582160) which is authorised and regulated by the Financial Conduct Authority. © 2016 Drake Star Partners Limited.
Inquiries
For further inquiries, please contact: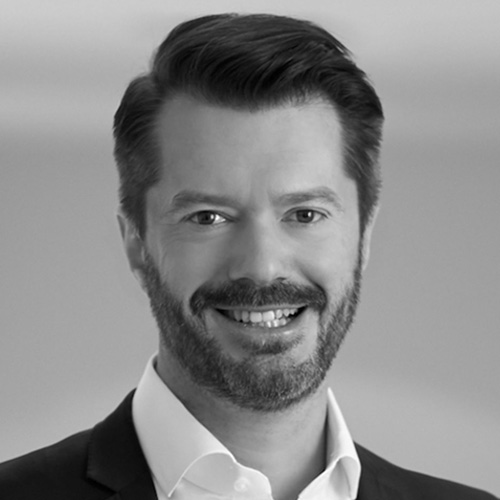 Full
Biography
Ralf Philipp Hofmann
Managing Partner, Member of the Executive Committee
Software/SaaS
Digital Services
Munich