Multichannel Shoe Brand
BERLIN | BIETIGHEIM-BISSINGER | December 8th, 2016 – Berlin-based start-up Shoepassion announced that it has acquired Bietigheim-Bissingen-based traditional shoe brand Heinrich Dinkelacker. Drake Star Partners acted as exclusive financial advisor to Shoepassion on this transaction.
Shareholders of Heinrich Dinkelacker have transferred 100 percent of the company's share capital in exchange of new shares in Shoepassion. This represents a business combination between one of the oldest German shoe brands with one of the youngest.
Founded in 2008 in Berlin, Shoepassion started to expand in the highly dynamic and growing online shoe retail market from 2010 with its own collection of Goodyear welted shoes. From its early positioning as a pure play online retailer, Shoepassion has since developed into a multi-channel retailer of high-quality shoes in the affordable luxury segment with its own stores in all major German cities.
Founded in Baden-Württemberg in 1879, Heinrich Dinkelacker stands amongst the most exclusive manufacturers of Goodyear welted shoes in the world. Since the 1960s, the company has delivered its craftsmanship in the shoemaking capital of Budapest, Hungary. To this day, Dinkelacker is recognized for the quality of its brogue shoes all across Germany.
When the formerly family-owned German company found itself without a successor in 2004, the company was handed over to Norbert Lehmann (a former IBM Manager), Dr. Wendelin Wiedeking (the former CEO of Porsche AG) and Anton Hunger (the former Head of PR at Porsche AG) – all three men with a strong passion for quality shoe craftsmanship.
Wiedeking: "Shoepassion and Heinrich Dinkelacker combine classic craftsmanship with digital expertise."
After spending eleven years driving the luxury shoe brand's success and expanding internationally, the new owners searched for a forward-thinking solution for their company. "I had been following Shoepassion for several years," recounts CEO Norbert Lehmann. "The men behind it brought new ideas and a new vision to an extremely traditional shoe industry. They showed with much passion and vigour that repeating the same thing over and over again, merely relying on the product, is not enough on its own. Even a classic handcrafted shoe needs to be marketed in an appealing and contemporary way." Dr. Wendelin Wiedeking concurs: "Shoepassion and Heinrich Dinkelacker combine classic craftsmanship with digital expertise. Thanks to this merger, we know that our brand is well prepared for the future of retailing."
The joining of these two companies is of great significance, not only to Shoepassion – a dynamic Berlin-based growth company – but also to the entire German retail industry, sending an important signal to traditional retail in general and shoe retail in particular, which is currently facing enormous structural changes. "I am very proud of this historic deal and of the level of trust that has been placed in us," declares Tim Keding, Founder and CEO of Shoepassion. "It is a great honour to be trusted with a celebrated luxury brand with its own factory, further demonstrating that even traditional companies can thrive in contemporary retail without sacrificing their core identity," Keding continues.
Until now, the Berlin-based company has been known for its Goodyear welted premium shoes made in the EU. Now, Shoepassion can expand its product range to hand-made luxury shoes. "As a shoe aficionado, I have always known Heinrich Dinkelacker for its unparalleled quality. The grouping of the premium and luxury segments offers us a lot of new opportunities and I am very happy to be able to continue the heritage of Dinkelacker." stated Keding.
While Shoepassion will now hold 100 percent of the share capital of Heinrich Dinkelacker, the former owners Norbert Lehmann, Dr. Wendelin Wiedeking and Anton Hunger have become shareholders in Shoepassion. Heinrich Dinkelacker and Shoepassion combine more than 100 years of business experience and craftsmanship to the pace of a fast-growing start-up with strong international expansion objectives. The newly formed group of shareholders agree that Shoepassion's digital expertise will help introduce entirely new customer groups to Heinrich Dinkelacker.
About Shoepassion
Ever since the start of its online shop in 2010, Shoepassion has evolved around its passion for premium, Goodyear welted shoes, sophisticated shoe care products and elegant accessories. The Berlin-based shoe brand now operates seven online shops geared towards seven countries with its own retail locations in Berlin, Munich, Hamburg, Dusseldorf, Frankfurt and Cologne, in Germany, as well as international branches in Warsaw, Poland and Zurich, Switzerland. The designing process of Shoepassion starts in Berlin, the next step is the sourcing and processing of the leather, through a manufacturer in Spain and then delivering its quality products to its customers and shops. Shoepassion relies on the greatest possible degree of "Made in the EU" sustainability and transparency.
About Heinrich Dinkelacker
Founded in 1879, Heinrich Dinkelacker, is one of the most exclusive manufacturers of handcrafted, Goodyear welted men's shoes worldwide. Their luxurious footwear is produced in the Heinrich Dinkelacker factory in Budapest, at the experienced hands of over 40 specialist shoemakers. As such, Dinkelacker is synonymous with Brogue shoes, and has made a name for itself with these in Germany. Their premium shoes are made without conveyor belts and stifling efficiency standards — each pair takes around 300 steps to produce, from cutting the leather to the final finish. Heinrich Dinkelacker shoes are true works of handcrafted perfection.
About Drake Star Partners
Inquiries
For further inquiries, please contact: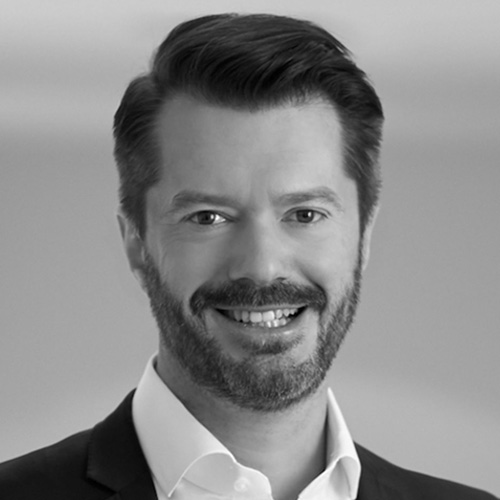 Full
Biography
Ralf Philipp Hofmann
Managing Partner, Member of the Executive Committee
Software/SaaS
Digital Services
Munich