MUNICH | April 9, 2019 – HYPE Innovation, a leading international provider of idea and innovation management software announced the majority acquisition by Main Capital. With its highly scalable solutions, HYPE Innovation helps its customers to connect and empower people to increase revenue, save costs, improve processes, and master the digital transformation. Main Capital will actively support HYPE Innovation in maintaining its strong growth momentum by further internationalizing the business and extending the value proposition for its customers. Drake Star Partners acted as exclusive financial advisor to HYPE and its shareholders on this transaction.
HYPE Innovation is a leading software specialist in the fast-growing enterprise innovation software market. The company's offering supports customers harnessing the collective intelligence of employees, customers, and partners by collecting and managing ideas and turning them into business cases. HYPE Innovation serves a well-diversified, global blue-chip customer base with 220+ customers across various industries, such as Airbus, BASF, Bayer, Bombardier, Bosch, Continental, Deutsche Post DHL Group, Fujitsu, Liebherr, Mattel, Munich RE, Nokia, Osram Roche, Saudi Aramco, Siemens, ThyssenKrupp, Toyota, Volvo, Volkswagen.
The ongoing digitalization has led to shortening innovation cycles and new technologies have constantly been reshaping industries and business models. To remain competitive, efficient communication among employees across business units, their empowerment for specific projects and the involvement of external stakeholders in innovation management processes increasingly become mission-critical. Industry analysts expect the growing pressure to innovate will increase the number of organizations making use of smart idea and innovation management solutions and thus spur the overall market growth in the years to come.
"Since the introduction of our flagship product HYPE Enterprise in 2004, we have grown our revenues every year for 14 years in a row, at a rate of 23% annually. 2018 was another record year, with 30% growth in order entry. We are proud to be considered a thought leader in innovation management, and to support more than 220 active enterprise customers around the globe", said Dr. Enno Scholz, CEO & Co-Founder of HYPE Innovation. "Our customers and partners see Main Capital's investment as further validation of our successful strategy, and as further strengthening our leading position in the innovation management space."
"Over the last years, we have seen a rising need for HYPE Enterprise to support innovation teams in areas such as strategic foresight, technology scouting, startup relationship management, crowdfunding, supplier innovation, and open innovation", said Dr. Frank Henningsen, CTO & Co-Founder of HYPE Innovation. "To support these needs, we have built an offering that integrates our own technology with the capabilities of our strong and proven partners, who are leading providers of innovation technology and services. It is an exciting prospect to work with Main Capital to pursue strategic M&A opportunities in the innovation management sector and adjacent markets."
"HYPE Innovation is one of the leaders in the global innovation management software market providing highly scalable solutions to its blue-chip customer base. We are excited that we could support HYPE's visionary, entrepreneurial leadership team in executing a highly effective process, creating a real win-win situation and preparing HYPE for the next phase of its life cycle", said Ralf Philipp Hofmann, Managing Partner and Member of the Global Executive Committee at Drake Star Partners.
Dr. Hans-Christian Perle, Managing Director of Kennet Partners, commented: "HYPE has shaped innovation management with its intelligent and decentralized approach and has found the right partner in Main Capital to further strengthen its market position. We are delighted that we have accompanied HYPE Innovation as a partner on its path to become a global innovation solution leader in all these years. Particularly, we would like to thank the HYPE management for the trusting and constructive cooperation in recent years and wish HYPE Innovation and Main Capital every success in the coming years." Dr. Perle continued: "The majority sale of HYPE to Main Capital marks another successful M&A transaction in the software space that we executed together with the Drake Star Partners team that combines profound expertise in enterprise software with exceptional execution skills."
Charly Zwemstra, Managing Partner of Main Capital, commented: "We have regularly been in touch with HYPE Innovation's management team since 2014, built up mutual trust, and closely followed the organizational development. Over the last years, HYPE Innovation has demonstrated an impressive growth trajectory, while simultaneously transforming the business towards a strong recurring profile. Notably, recurring revenues grew with a CAGR of approx. 27% between 2015-18. With its best-in-class products, HYPE Innovation is well-positioned to capitalize on the growing demand for idea and innovation management software solutions. Beyond this, we see attractive inorganic growth opportunities for HYPE Innovation to further expand its product offering and broaden the geographical footprint and size of the group."
Drake Star Partners Team: Ralf Philipp Hofmann, Mareen Meiswinkel, Anton Donauer
About HYPE Innovation
HYPE Innovation is a global leader in innovation ecosystem management software and services. HYPE's platform offers dedicated innovation tools to address a range of innovation scenarios. With HYPE, organizations can engage employees, customers, and partners in idea generation and collaborative problem-solving. HYPE's client community includes global companies such as Airbus, AkzoNobel, ConocoPhillips, Deutsche Post DHL Group, Mattel, Merck, Nokia, Saudi Aramco, Fujitsu, and Siemens.
About Main Capital
Main Capital is a strategic investor with an exclusive focus on the software sector in Benelux, Germany and Scandinavia. Within this sector, Main is specialized in management buy-outs and later-stage growth capital for strategic acquisitions. Main Capital has approximately € 400 million under management for investments in mature but growing software companies in the Netherlands and Germany. An experienced team of professionals manages these Private Equity funds from offices in The Hague and Düsseldorf.
For further inquiries, please contact:
About Drake Star Partners
Drake Star Partners is a global investment banking firm serving the technology, media, and communications sectors (TMC) with offices in New York, London, Paris, Munich, San Francisco, Los Angeles, Berlin, Geneva, Singapore*, and Dubai*. The firm focuses on M&A and corporate finance for its clients worldwide. Drake Star Partners completed over 400 transactions since 2004, 70% of which are cross-border.
Drake Star Partners is the marketing name for the global investment bank Drake Star Partners Limited and its subsidiaries and affiliates. In the USA, all securities are transacted through Drake Star Securities LLC. In the USA, Drake Star Securities LLC is regulated by FINRA and is a member of SIPC. Drake Star UK Limited (FRN 942020) is an appointed representative of Kession Capital Ltd (FRN582160) which is authorized and regulated by the Financial Conduct Authority. © 2016 Drake Star Partners Limited.
Inquiries
For further inquiries, please contact: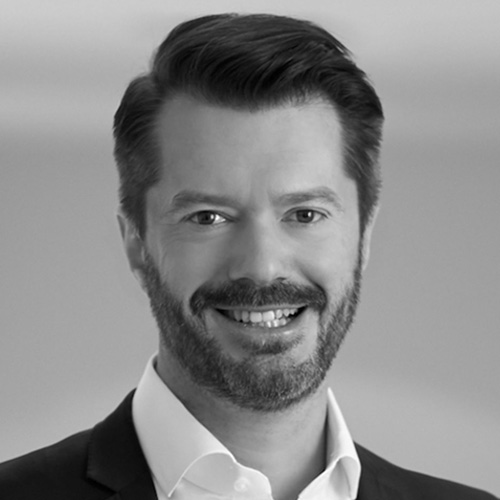 Full
Biography
Ralf Philipp Hofmann
Managing Partner, Member of the Executive Committee
Software/SaaS
Digital Services
Munich