BERLIN | December 1, 2021 – ]init[ AG für digitale Kommunikation ("]init["), a leading provider of digital transformation solutions for the public sector, announced that Gilde Buy Out Partners will strengthen the company's shareholder base. Funds advised by Gilde Buy Out Partners ("Gilde") have agreed to acquire a minority stake while funds advised by EMERAM Capital Partners ("EMERAM") will maintain their shares in ]init[ at the same level as Gilde. Dirk Stocksmeier, Founder and Chairman of the supervisory board, as well as management remain shareholders of the Berlin-headquartered digital company. Drake Star acted as financial advisor to the founders and management of ]init[ on this transaction.
The goal of the newly-formed group of shareholders is to further accelerate ]init['s growth trajectory. Jointly, the shareholders intend to seize strategic opportunities, expand the company's international footprint and realize acquisitions.
Founded in 1995, ]init[ AG für digitale Kommunikation is considered one of the leading service providers in the field of digital transformation. The company currently operates out of six locations with a total of 800 employees. Its numerous customers include both public sector and well-known industrial clients.
Matthias Wilcken, Partner at Gilde, said: "]init[ has a strong market position in Germany and achieves impressive growth rates. We are looking to expand on this. Together, we want to develop the company strategically. We see considerable opportunities both organically and inorganically. ]init[ will benefit significantly from our international orientation, our long-standing experience as well as our financial strength."
Dirk Stocksmeier, Founder and Chairman of the supervisory board of ]init[, stated: "With the newly-formed shareholder group, we are leading ]init[ into a new phase of corporate development. We are increasing expertise, technology portfolio, network, and financial scope. ]init[ looks forward to implementing our ambitious growth strategy, which will lead us back into international markets in the future – benefiting our clients and employees alike."
Dr. Christian Näther, Managing Partner of EMERAM Capital Partners, commented: "In our role as business development partner, we have supported ]init[ in their successful growth path. This enabled ]init[ to further boost its positioning as a full-service digitisation provider for the public sector, while at the same time acquiring well-known customers in the industry. The further growth in ]init['s strength since EMERAM's share acquisition in 2019 is reflected, among other things, in the significant increase in average project volumes and sales per employee. We now intend to continue this success story together with Gilde Buy Out Partners as a renowned, pan-European shareholder."
Ralf Philipp Hofmann, Managing Partner & Co-Founder of Drake Star, said: "We are delighted that we could support management and founders of ]init[ on this transaction. We wish the ]init[ management team together with the newly-formed group of shareholders all the best for the future and a continued success of the company's growth story."
Drake Star Team: Ralf Philipp Hofmann, Maximilian von Bodman, Julian Wolf
Inquiries
For further inquiries, please contact:
About ]init[ AG für digitale Kommunikation
]init[ AG for digital communications is a leading provider of digital transformation solutions for the public sector and industry. ]init[ pursues a full-service approach along the digital value chain: development and implementation of digitalisation strategies, design and operation of websites and portals, IT strategy/IT security consulting, and operation of customer platforms in dedicated data centers.
For more information, please visit www.init.de
About Gilde Buy Out Partners
Gilde Buy Out Partners is a leading European private equity investor in mid-market transactions with operations in the DACH region, in Benelux, and in Italy. Gilde manages funds in excess of Euro 3 billion and has offices in Milan, Utrecht, Brussels, Frankfurt, and Zurich. Since its inception in 1982, Gilde has supported more than 250 companies to realize their growth ambitions.
For more information, please visit www.gilde.com
About EMERAM Capital Partners
EMERAM is one of the leading investment companies for medium-sized companies in the German-speaking region. Funds advised by EMERAM currently provide 400 million euros of capital for the development of companies. The portfolio includes companies from the Technology/Software, Value-added Services, and New Consumer Staples sectors.
EMERAM acts as a long-term business development partner for its companies and supports the sustainable growth (organic and inorganic) of its portfolio companies. Currently, the portfolio contains six platform investments, which generated continuously double-digit organic sales growth rates. Additionally, through more than 20 add-on acquisitions significant in-organic growth and international expansion came on top.
For more information, visit www.emeram.com
About Drake Star Partners
Drake Star Partners is a global investment banking firm serving the technology, media, and communications sectors (TMC) with offices in New York, London, Paris, Munich, San Francisco, Los Angeles, Berlin, Geneva, Singapore* and Dubai*. The firm focuses on M&A and corporate finance for its clients worldwide. Drake Star Partners completed over 400 transactions since 2004, 70% of which are cross-border.
Drake Star Partners is the marketing name for the global investment bank Drake Star Partners Limited and its subsidiaries and affiliates. In the USA, all securities are transacted through Drake Star Securities LLC. In the USA, Drake Star Securities LLC is regulated by FINRA and is a member of SIPC. Drake Star UK Limited (FRN 942020) is an appointed representative of Kession Capital Ltd (FRN582160) which is authorized and regulated by the Financial Conduct Authority. © 2016 Drake Star Partners Limited.
*Partner Offices
Inquiries
For further inquiries, please contact: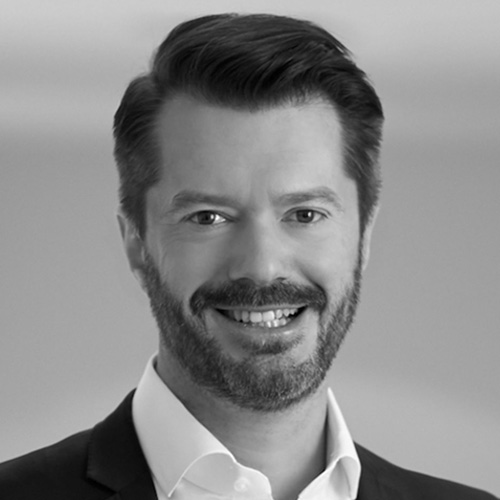 Full
Biography
Ralf Philipp Hofmann
Managing Partner, Member of the Executive Committee
Software/SaaS
Digital Services
Munich