AI Software for Enterprise Content Creation
Acrolinx, the leading provider of AI software for enterprise content creation, announced today the majority acquisition and equity growth funding by GENUI in a transaction with a volume of approx. $60m. Bernd-Michael Rumpf, former CEO of SAP SI will invest alongside GENUI and Acrolinx management is expanding its shareholding in the company as part of the transaction. The investment will help accelerate Acrolinx's continued global expansion and market leadership. Drake Star Partners acted as exclusive financial advisor to Acrolinx on this transaction.
"Content matters now more than ever. To reach, engage, and retain customers, you need a lot of high-quality content. While many companies have solved the problem of content distribution, scaling the creation of great content remains a huge challenge. We have shown how Artificial Intelligence is a great way to solve that problem", says Andrew Bredenkamp, Founder and CEO of Acrolinx. "We are confident that the experience and networks of GENUI and Bernd-Michael Rumpf will bring enormous value for Acrolinx. Together with GENUI, a strong partner with a long-term focus, we will be able to further scale our go-to-market strategies, broaden and accelerate product development, and execute on our vision even more rapidly", added Ulrich Callmeier, COO & CTO of Acrolinx.
Acrolinx is the only AI software platform that uses a unique linguistic engine to "read" content and provide immediate guidance and powerful analytics to make it more effective. The company's technology is transforming how over 300 of the world's biggest brands create high-performing content on-brand, on-target and at scale. The Acrolinx AI engine integrates with all major content tools, giving content contributors real-time advice on everything from brand, tone, clarity, compliance and consistency as they create content.
Acrolinx were recently recognized by Forrester Research as one of the breakout vendors in the field of "Content Intelligence".
"Acrolinx delivers a unique and compelling value proposition for its customers – a proprietary AI-powered linguistics engine technology to help companies align, enhance, and enrich their marketing and product content. We are committed to jointly accelerate growth with new and existing customers and further sharpen the various use cases along the customer journey", said Bernd-Michael Rumpf.
"The Acrolinx offering is unique, easy to implement and has a clear ROI for its customers", said Patrick Gehlen, Partner at GENUI. In our discussions with customers they confirmed the strong value add through cost savings in the content creation process, faster time to market as well as increasing revenues through more effective content. This has enabled Acrolinx to capture an impressive global customer base with 70%+ revenues abroad with largely blue chip customers like Google, SAP, IBM, Amazon, Volvo, Siemens, Facebook and Nestle. GENUI is excited to support the company to further expand its global leadership position." With GENUI as a partner with a long-term view providing capital and expertise, Acrolinx will benefit from a stable shareholder structure, enabling management to pursue its strategy, focused on sustainable growth.
Bernd-Michael Rumpf, Patrick Gehlen and Max Odefey of GENUI will join as members of the company's board of directors.
"Acrolinx is one of the most promising AI-based enterprise software players in Europe serving a highly dynamic global market fueled by unprecedented investments in content", said Ralf Philipp Hofmann, Managing Partner and Member of the Global Executive Committee at Drake Star Partners. "It was very exciting for us to support the Acrolinx global leadership team in achieving their goals to move to the next level of the company's expansion."
"With a great understanding of the enterprise software market and an enormous global reach and network, Drake Star Partners was the perfect partner for us to find a new, strong shareholder supporting our global expansion strategy as part of a highly competitive, global process", said Ulrich Callmeier.
Drake Star Partners Team: Ralf Philipp Hofmann, Benedikt Gottwald, Mareen Meiswinkel
About Acrolinx
Acrolinx is a leading global provider of highly scalable and proven AI software for enterprise content creation. Acrolinx technology helps large global brands, including IBM, Nestle, Siemens, Google, Facebook, Boeing, SAP and Amazon, create content that's on-brand, on-target, at enterprise scale. The company is a spin-off of Germany's DFKI, one of the world's leading research institutes in the field of Artificial Intelligence.
For more information, please visit www.acrolinx.com
About GENUI
GENUI is a private investment firm established by a group of exceptional entrepreneurs and investment professionals which takes long-term stakes (10+ years) in medium-sized growth companies in the German-speaking countries. With GENUI, companies gain a shareholder that contributes unique expertise and a valuable network of contacts from entrepreneurs, as well as ensuring professional, growth-oriented governance.
For more information, please visit www.genui.de/en
About Drake Star Partners
Drake Star Partners is a global investment banking firm serving the technology, media and communications sectors (TMC) with offices in New York, London, Paris, Munich, San Francisco, Los Angeles, Berlin, Geneva, Singapore* and Dubai*. The firm focuses on M&A and corporate finance for its clients worldwide. Drake Star Partners completed over 400 transactions since 2004, 70% of which are cross-border.
Drake Star Partners is the marketing name for the global investment bank Drake Star Partners Limited and its subsidiaries and affiliates. In the USA, all securities are transacted through Drake Star Securities LLC. In the USA, Drake Star Securities LLC is regulated by FINRA and is a member of SIPC. Drake Star UK Limited (FRN 942020) is an appointed representative of Kession Capital Ltd (FRN582160) which is authorised and regulated by the Financial Conduct Authority. © 2016 Drake Star Partners Limited.
Inquiries
For further inquiries, please contact: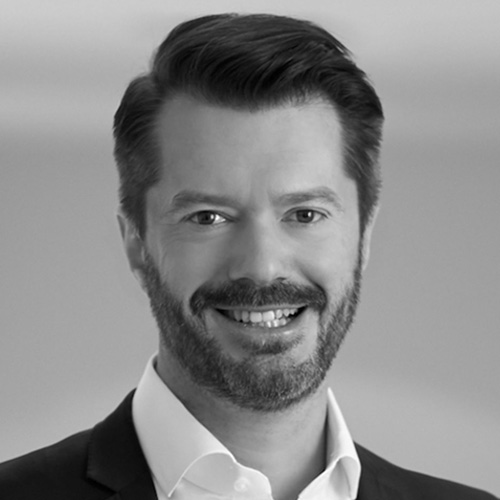 Full
Biography
Ralf Philipp Hofmann
Managing Partner, Member of the Executive Committee
Software/SaaS
Digital Services
Munich