– GAN Ströer GmbH: New star in game advertising
– Consolidated portfolio reaches around 15 million users in Germany
COLOGNE | HAMBURG | January 6th, 2014 – Ströer Media today announced that it has taken over 70% of GAN Group, the leading marketer of in-game advertising in Germany. GAN Group consists of GAN Game Ad Net, special marketer for gaming, games-marketing specialist NEODAU and technology provider GAN Technologies. Cologne-based marketer Ströer thereby consequently expands its online portfolio. As part of Ströer Digital Group, the newly-formed GAN Ströer GmbH will become Europe's leading premium gaming marketer.
"With the acquisition of GAN Group, we strategically expand our online portfolio. In-game advertising is an attractive future market. We widen our product bandwidth and expand its reach. Most importantly, we strengthen the relevance for our customers," says Udo Müller, CEO of Ströer Media AG. "By offering games marketing Ströer takes over a growing segment in the digital advertising business with high potential."
GAN Ströer GmbH reaches around 15 million internet users in Germany. In addition to 3.58 million unique users from the co-marketed games pages of GAN Game Ad Net and 6.21 million unique users (according to AGOF) from Ströer Digital, almost six million more users who are not yet covered by online researchers need to be added. In video advertising, GAN Ströer GmbH attains more than 50 million video views and reaches 6 million smartphone users per month. Additionally, the company profits from the markets in the "gamer nations" Poland and Turkey, where Ströer is the leader in online and out-of-home advertising.
Managed by the founders, Marlon Werkhausen und Daniel Siegmund, GAN provides companies with exclusive advertising products. Games publishers are being provided with a sustainable source of revenues combined with wide reach and publisher services. The variety of communication solutions reaches from in-game advertising via video advertising to in-game brand placements, where brands become part of the game.
"For us, Ströer is the perfect fit for a strategic partnership: high market relevance, contacts to advertising companies, great company culture and the passion for innovative brand communication", say Marlon Werkhausen and Daniel Siegmund.
The new portfolio includes leading publishers like Innogames (www.die-staemme.de), Upjers (www.myfreefarm.de), Bigpoint (www.farmerama.de), SpilGames (www.jetztspielen.de), Webguidez (www.gamona.de), Computec (pcgames.de), Rovio Entertainment (Angry Birds Mobile) and Kaisergames (spielaffe.de).
"Newly-formed GAN Ströer is Germany's market leader in advertising solutions for the Gaming industry and ideally combines the skills, expertise, reach and network of both companies", said Ralf Philipp Hofmann, Managing Partner at LD&A Jupiter who exclusively advised GAN Group and its shareholders on the transaction.
About GAN
GAN Group is a premium specialist for online game advertising in the German-speaking countries. GAN offers a variety of unique solutions within casual, browser, social and mobile games as well as gaming portals to advertisers and publishers across Europe.
About Ströer
Ströer Group is one of the largest international marketers of out-of-home-media. With its digital and interactive media, Ströer reaches relevant mobile target groups across its European core markets.
About LD&A Jupiter
LD&A Jupiter identifies, structures and executes value-creative private and public market transactions for corporations and financial investors. Transactions include build-ups, mergers, acquisitions, divestitures as well as the issuance of equity or debt capital for customers from the Software, IT Services, Telecoms, Internet/Digital Media, Gaming, Customer Care, Electronics and Cleantech industries.
With offices in London, Munich, Paris, Berlin, New York and Los Angeles, LD&A Jupiter offers international coverage and a unique combination of cross-border capabilities and know-how.
About Drake Star Partners
Drake Star Partners is a global investment banking firm serving the technology, media and communications sectors (TMC) with offices in New York, London, Paris, Munich, San Francisco, Los Angeles, Berlin, Geneva, Singapore* and Dubai*. The firm focuses on M&A and corporate finance for its clients worldwide. Drake Star Partners completed over 400 transactions since 2004, 70% of which are cross-border.
Drake Star Partners is the marketing name for the global investment bank Drake Star Partners Limited and its subsidiaries and affiliates. In the USA, all securities are transacted through Drake Star Securities LLC. In the USA, Drake Star Securities LLC is regulated by FINRA and is a member of SIPC. Drake Star UK Limited (FRN 942020) is an appointed representative of Kession Capital Ltd (FRN582160) which is authorised and regulated by the Financial Conduct Authority. © 2016 Drake Star Partners Limited.
Inquiries
For further inquiries, please contact: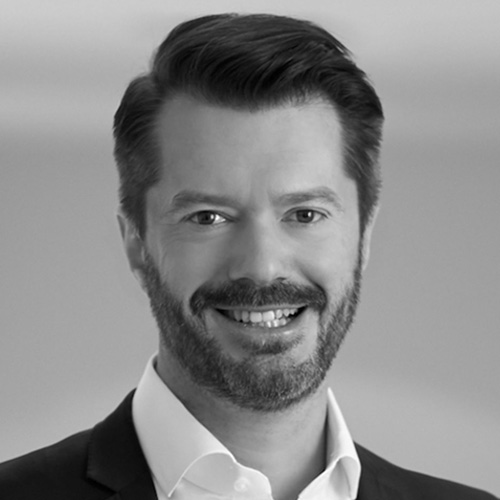 Full
Biography
Ralf Philipp Hofmann
Managing Partner, Member of the Executive Committee
Software/SaaS
Digital Services
Munich