USU Software AG (USU) has announced a majority acquisition of B.I.G. Social Media GmbH (B.I.G.). Berlin-based B.I.G. is a leading international provider of Software-as-a-Service solutions for enterprise clients in the field of social media management.
B.I.G.'s solution portfolio extends from intelligent social media monitoring to applications for social media customer dialogue. This means that the knowledge available on the Internet about customers, markets and trends can be analysed on a requirement-driven, continuously updated basis and then processed and utilised across all communication channels without media disruption. Big companies such as Audi, Bosch, Microsoft, Deutsche Post/DHL, Lufthansa, O2 and Viessmann already successfully use solutions from B.I.G. With B.I.G.'s products and expertise, USU is adding the rapidly expanding social media market to its portfolio for knowledge-based service management.
Strategic expansion in knowledge solutions
By integrating B.I.G. social media technology into the knowledge database USU KnowledgeCenter, USU will create a worldwide unique selling proposition in knowledge-based service management, thereby consolidating its market leadership in the field of knowledge solutions. By combining the two established product lines, USU will tap the full wealth of knowledge on the Internet for its customers moving forward, serving all customer service channels and delivering the information needed at each point in the service chain. The web-based Software-as-a-Service (SaaS) solutions from B.I.G. are an ideal fit for USU Group's SaaS strategy. The strategic merger also creates the potential to continue growth, including at an international level.
Growth potential for USU through social media monitoring
Intelligent social media software provides answers to questions such as: What is being said on the web about the company? Which social media platforms are discussing issues relevant to the company? Where is communication taking place? In future, the combination of intelligent web analysis and a company-wide knowledge database will analyse key information on a requirement-driven basis to provide a complete picture of customers and market trends. This helps to optimise products and services and forms a launch pad for new business strategies. The integration of social media into business processes is a particular success factor. For example, the integration of social media into customer relationship management (social CRM) enables entirely new opportunities for attracting customers and boosting customer loyalty.
According to the market research company Forrester, the social software market will continue to develop very rapidly in the coming years with annual growth rates of more than 60%. Forrester estimates the market volume for 2016 at USD 6.4 billion.
Key details of the acquisition
As part of the transaction, USU Software AG will initially acquire 51% of the shares in B.I.G. Social Media GmbH. USU is aiming to fully acquire B.I.G. within two years. For this reason, the parties have been granted put and call options for the remaining shares. A total purchase price of up to EUR 10.7 million has been agreed as part of the transaction. The exact price will depend upon various factors, including in particular B.I.G.'s operating earnings. The company is forecasting sales growth for fiscal 2012 of over 50% to more than EUR 3 million. B.I.G. is also anticipating strong, profitable sales growth in the coming years.
"Every company will have to use the information from social media sources in future if it wants to be successful. By investing in B.I.G., we have succeeded in becoming the innovation leader in this key segment. The products are broadly established and are an ideal fit for the USU Group's portfolio," explained the CEO of USU Software AG, Bernhard Oberschmidt.
B.I.G. will continue to operate as an independent entity following its takeover by USU. "Merging with the USU Group is an excellent growth opportunity for us as USU's huge customer base will open up new markets for B.I.G. technology. We are looking forward to continuing our proven services for our customers. At the same time, our employees will be given long-term prospects in an established and healthy international company," said Prof. Peter Gentsch, founder and shareholder of B.I.G. GmbH.
LD&A Jupiter acted as exclusive advisor to B.I.G. on this transaction. "B.I.G. Social Media is a very dynamic and strong growing player in the attractive Social Media Monitoring Market. We are delighted that, with USU, the company has found a competent and strong strategic partner who complements B.I.G. in an ideal way", said Ralf Philipp Hofmann, Managing Partner of LD&A Jupiter.
Inquiries
For further inquiries, please contact: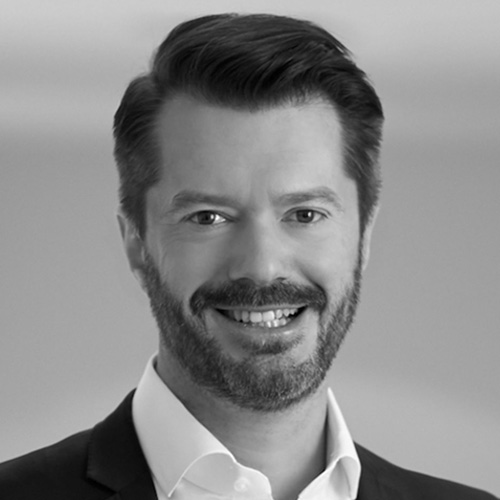 Full
Biography
Ralf Philipp Hofmann
Managing Partner, Member of the Executive Committee
Software/SaaS
Digital Services
Munich