LONDON | June 16th, 2022 – Container Solutions, a leading global cloud-native specialist, today announced its minority investment from renowned UK investor, Growth Capital Partners ('GCP').
Drake Star acted as the exclusive financial advisor to Container Solutions on the transaction.
Container Solutions ('CS') is a specialist cloud services provider that solves business problems by designing, building, and implementing technology solutions in a Cloud Native manner. With its extensive experience of delivering large-scale transformations for enterprise clients, CS enables organisations to realise all the benefits that operating in the Cloud provides, including flexible deployment of services, resilience of infrastructure, speed to market, and automation. With operations across the globe and key hubs in London, Amsterdam, Montreal, and Berlin, the business has delivered rapid year-on-year growth by winning and growing an attractive base of large clients who want to modernise their approach to cloud technology.
GCP's investment will support Container Solutions' ambitious growth plans, supporting existing clients whilst winning new strategic relationships, all underpinned by the business' specialist and highly sought-after technical capabilities.
Jamie Dobson, CEO, Container Solutions comments: "This transaction marks a significant and exciting milestone in the development of Container Solutions. The business is growing rapidly and now is the right time to bring in a partner to support the team as we look to scale further. GCP's long-standing track record of successfully backing entrepreneurial, specialist tech services businesses made them the clear partner of choice. They have delivered on what they said they would and the genuine cultural alignment between our businesses provides strong foundations for a successful partnership."
Ravi Monteiro, Investment Director, GCP comments: "We are delighted to have completed our investment in Container Solutions. There is a huge and growing demand for specialist, Cloud Native services as more organisations look to access the full strategic benefits of the Cloud. Set against that backdrop, Jamie and Pini have built an exceptional business with first-class technical capabilities and strong, people-centric culture at its core. GCP has a very strong track record of supporting technology consulting businesses and we are excited to be partnering with Jamie, Pini, and the broader CS team to support the business in delivering its growth plans."
Gaby Silvestris, Partner at Drake Star Partners, said: "We are delighted to have worked with Jamie, Pini, and their impressive management team. They have built a disruptive business supported by a best-in-class team of cloud-native engineers. Having successfully grown their business internationally, Container Solutions is now well-positioned for accelerated growth under its partnership with GCP. We wish them all the best as they embark on this exciting next phase of growth."
Jamie Dobson added: "We wanted to work with an investment bank who understood our culture and could help us find not just a capital partner but one who shared our values and ethos. Drake Star delivered just that, guiding us throughout the process until the very final moments. The result is a perfect pairing between CS and GCP."
Drake Star Team: Gaby Silvestris, Jack Dessay, Mathilde Deschamps
Inquiries
For further inquiries, please contact:
Gaby Silvestris
Partner | Drake Star
e-mail: gaby.silvestris@drakestar.com | + 44 777 305 2247
About Growth Capital Partners
Growth Capital Partners was founded in 1999 and has a 22-year successful track record of building genuine investment partnerships with outstanding growth companies in the Technology, Services & Industrials sectors. Its distinctive partnership approach provides flexible equity funding solutions of between £10m and £50m, alongside highly valuable and agile strategic support for ambitious entrepreneurs.
For more information, visit: www.growthcapital.co.uk.
About Container Solutions
Container Solutions is a leading international cloud native specialist delivering complex cloud transformations for the world's most prominent corporates. The business leverages on its highly specialised and vendor-neutral technical capabilities to deliver end-to-end client engagements; from strategy to execution to managed support. Building on its uniquely differentiated value proposition as an unconflicted, independent, and highly value-additive transformation partner, Container Solutions has created an outstanding track record, in particular with large blue-chip companies.
For more information, visit: www.container-solutions.com.
About Drake Star
Drake Star is an award-winning global tech investment bank that has completed over 400 transactions since 2013. Drake Star team of over 100 senior professionals across offices in New York, London, Paris, Munich, San Francisco, Los Angeles, Berlin, Geneva, Dubai*, and Singapore* focuses on mergers & acquisitions and corporate finance services worldwide in Consumer & Retail Technology, Digital Media, FinTech, Mobility & Sustainability, Software/SaaS, Digital Services, and Industrial Tech sectors.
Drake Star is the marketing name for the global investment bank Drake Star Partners Limited and its subsidiaries and affiliates. In the USA, all securities are transacted through Drake Star Securities LLC. In the USA, Drake Star Securities LLC is regulated by FINRA and is a member of SIPC. Drake Star UK Limited (FRN 942020) is an appointed representative of Kession Capital Ltd (FRN582160) which is authorized and regulated by the Financial Conduct Authority. © 2016 Drake Star Partners Limited.
For more information, visit www.drakestar.com.
*Partner Offices
Inquiries
For further inquiries, please contact: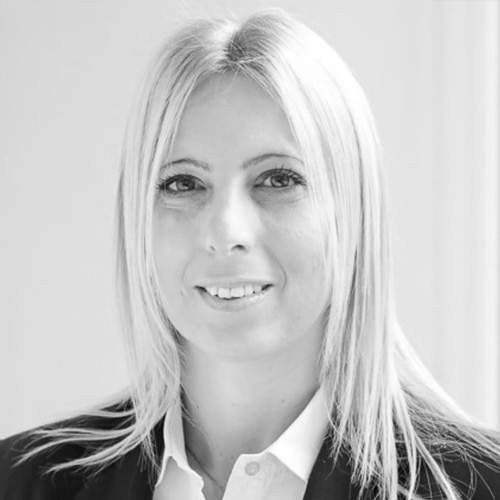 Full
Biography
Gaby Silvestris
Partner
Software/SaaS
Digital Services
London